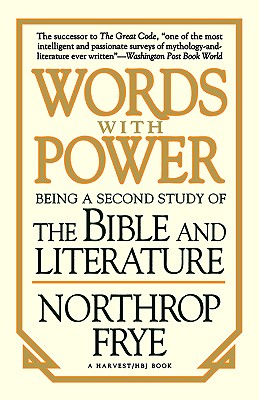 Stock Image
Author Name Frye, Northrop
Title Words with Power: Being a Second Study "The Bible and Literature"
Binding Paper Back
Book Condition Used - Good
Publisher Mariner Books April 1992
ISBN Number 0156983656 / 9780156983655
Seller ID 533775
Frye continues his exploration, begun in The Great Code, of the influence of Biblical themes and forms of expression on Western literature, with discussions of authors ranging from Chaucer and Shakespeare to Yeats and Eliot. Frye identifies four key elements found in the Bible-the mountain, the garden, the cave, and the furnace-and describes how they recur in later secular writings. Indices.

Price = 6.50 USD