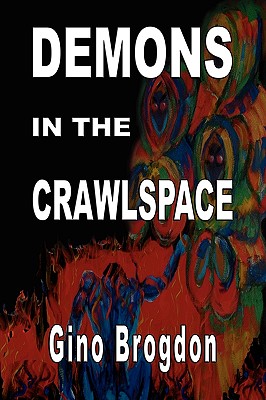 Stock Image
Author Name Brogdon, Gino
Title Demons in the Crawlspace
Binding Hardcover
Book Condition Used - Good
Publisher TotalRecall Publications, Inc. April 2009
ISBN Number 1590958675 / 9781590958674
Inscription Signed By Author
Seller ID 529031
"Demons in the Crawlspace"
Frank Salvato is a middleaged, divorced, homicide cop who is forced to join the world of tortured souls when his little boy is murdered. Battles with his own inner demons spiral into a limitless willingness to bend the law to get the bad guy. His emotional torment intensifies when he begins to investigate the disappearance of two little girls-a case that may involve satanic ritual abuse. The abduction leads Frank on a chilling journey through the under belly of Walker City, where he encounters not only middle class parents with something to hide, but a broad swath of society's wounded. Salvato sifts through colorful witnesses and hurdles evidentiary and legal barriers to discover the likely culprits. "Demons" is a riveting thriller that also shines a light on the national problems of child molestation and family violence.
Advance Praise for Demons in the Crawlspace
" "Demons" is a soul stirring look into the mind of a killer and the heart of a victim. A fast-paced gritty look at the reality of violent crime and those who fight to stop it."
"Nancy Grace
Host of Nancy Grace, Headline News Prime"
"Gino's story is a must read and an explosive beginning to this exciting homicide cop series." Demons" is a riveting depiction of the frightening realities of abuse and murder of children. The characters and scenes are written to detailed perfection. "Demons" is destined for a movie or TV series."
"Judge Glenda Hatchett, Child Advocate
Host of Judge Hatchett, Nationally Syndicated TV Series"
"There are more twists and turns in this novel than a mighty tornado. Do not attempt to predict the next chapter; you will fail."
"Don Keenan, Founder and Director of the "Keenan Kids"
Best Selling Author of "365 Ways To Keep Kids Safe
" "Demons in the Crawlspace" is a true fiction thriller of first order. "Demons" is an easy, fast-paced read filled with all the complexities of life as lived through the life of homicide cop Frank Salvato. This novel clearly has a place next to Patterson, Grisham and Mosley."
"Keith Murphy, Child Advocate
Executive Director, Bethany House Ministries"
"Gino Brogdon knows something that Grisham doesn't-Gino knows the street. Grisham is at his best writing about Ivy Leaguers.... In contrast, Brogdon brings alive the flotsam and jetsam of society-the homeless, the developmentally disabled, the prostitute, the pervert, and the substance abuser....He does this with a humor and with empathy."
"William O'Donohue, Ph.D.
Pedophilia / Sexual Abuse / Molestation Expert
Professor, Department of Psychology, University of Nevada, Reno"
Gino Brogdon
After receiving his law degree from Indiana University, Gino Brogdon practiced trial law with several private firms; served as Fulton county trial judge for ten years (Atlanta, Georgia); and is founder and partner in a law firm that specializes in high visibility civil cases. He is often a guest speaker on legal topics, both nationally and internationally, and has appeared as a TV legal analyst on the Nancy Grace Show, CNN, and MSNBC. He lives in Atlanta, has three sons, and enjoys painting, saxophone, and creative writing.
As a trial judge, Gino presided over cases involving murders, rape, child molestation, drug trafficking and public corruption. He took special interest in the personal tragedies underlying the perpetrator's journey to the courtroom. These urban stories, blended with those from his small town Ohio childhood, provide the poignant stock for his richly drawn characters.
This is Gino's first novel, and it inaugurates a planned series that will feature Detective Frank Salvato.
Price = 12.99 USD