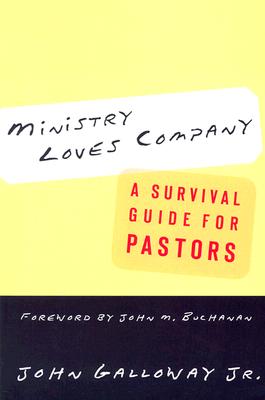 Stock Image
Author Name Galloway, John T., Jr.
Title Ministry Loves Company: A Survival Guide for Pastors
Binding Paper Back
Book Condition Used - Good
Publisher Westminster John Knox Press February 2003
ISBN Number 0664225845 / 9780664225841
Seller ID 462974
In "Ministry Loves Company," John Galloway provides new and veteran pastors with insights on establishing and maintaining a vital parish ministry while remaining invigorated by the practice of ministry. Drawing on the image of a congregation as a family, Galloway uses anecdotes to describe the life of a congregation and the life of a pastor, who have both been called to be the body of Christ. Poignant, memorable, and often humorous, Galloway's reflections derive from his own personal experiences as a pastor. "Ministry Loves Company" uniquely addresses the many challenges facing today's pastors and serves as a practical guide for those entering the minstry as well as those veteran pastors who are seeking to remain courageous and excited about parish ministry.
Price = 5.00 USD