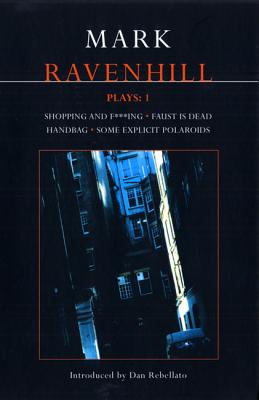 Stock Image
Author Name Ravenhill, Mark
Title Mark Ravenhill Plays: 1: Shopping and F***ing; Faust; Handbag; Some Explicit Polaroids
Binding Paper Back
Book Condition Used - Good
Publisher Bloomsbury Methuen Drama July 2003
ISBN Number 041376060X / 9780413760609
Seller ID 426096
"Ravenhill has more to say, and says it more refreshingly and wittily, than any other playwright of his generation"--"Time Out"
"There are few stage authors writing more interestingly than Mark Ravenhill ... He is - it is now yet more evident - a searing, intelligent, disturbing sociologist with a talent for satirical dialogue and a flair for sexual sensationalism."--"Financial Times"
Shopping and Fucking: "is a darkly humorous play for today's twenty-somethings ... a real coup de theatre"--Nicholas de Jongh, "Evening Standard
"
Faust: ..".an intelligent and witty reappropriation of the legend ... alive, pertinent and disturbing"--Michael Coveney, "Observer "
Handbag: ..".combines urban grit with sly wit, and reveals Mark Ravenhill as a writer of real daring" --"Daily Telegraph"
Some Explicit Polaroids: "laudably ambitious, pulsates with energy ... very funny"--"Financial Times"
Price = 5.99 USD