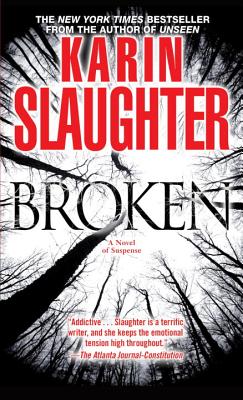 Stock Image
Author Name Slaughter, Karin
Title Broken: A Novel of Suspense
Binding Trade
Book Condition New
Publisher Dell January 2011
ISBN Number 0440244463 / 9780440244462
Inscription Signed By Author
Seller ID 445982
To get a personalized signed copy, include the name or message you would like personalized in the comment section of the order.
Personalized copies will ship out in 1-4 weeks depending on the availability of the author.
More Description
When Special Agent Will Trent arrives in Grant County, he finds a police department determined to protect its own. Officer Lena Adams is hiding secrets from him, and while her role in the death of the county's popular police chief is unclear, that man's widow, Dr. Sara Linton, desperately needs Trent's help to crack the case of a prisoner's death. While the police force investigates the murder of a young woman pulled from a frigid lake, Trent investigates the police force. Caught between two complicated and determined women, trying to understand the facts surrounding Chief Tolliver's death, Trent will uncover explosive secrets--and confront a thin blue line that could be murderous if crossed.
Price = 7.99 USD