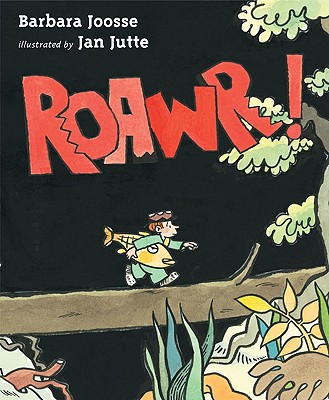 Stock Image
Author Name Joosse, Barbara
Title Roawr!
Binding Hardcover
Book Condition Used - Good
Publisher Philomel April 2009
ISBN Number 0399247777 / 9780399247774
Inscription Signed By Author
Seller ID 407260
Little Liam is snuggled in his toasty bed when his slumber is broken by a "crack snap ROAWR " outside in the woods. Papa is away, and Mama is sleeping soundly. And as everyone knows, Mama is delicious to forest things. It's up to Liam to protect her, but what can he possibly do against the forest's wild and dangerous creatures? He's just a little boy, after all.
Barbara Joosse, author of "Please Is a Good Word to Say," teams up with Jan Jutte, one of the Netherlands' preeminent picture-book artists, to create this highly original picture book that shows that what it really takes to defeat ferocious bears is--a big imagination

Listen to Barbara Joosse read "ROAWR " here.
Price = 11.99 USD