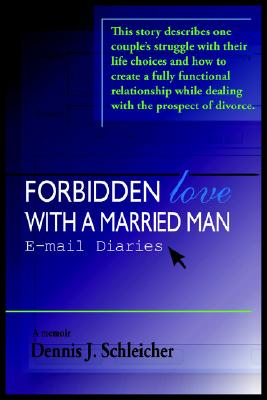 Stock Image
Author Name Schleicher, Dennis J.
Title Forbidden Love with a Married Man: E-mail Diaries
Binding Paper Back
Book Condition Used - Good
Publisher AuthorHouse July 2006
ISBN Number 1425944264 / 9781425944261
Seller ID 534012
Forbidden Love with a Married Man; E-mail Diaries describes one couple's journey as they struggle with sexual identity and how it conflicts with right and wrong. More than 4 million women are currently or have been married to either a gay or bisexual man. Often the gay spouse feels forced by societal and family pressures into marriage, suppressing his true feelings in order to be socially accepted by appearing "straight." However, in secret these men cheat on their wives by conducting affairs with members of the same sex. This day-by-day memoir diary includes actual daily e-mails and correspondence between the author, Dennis Schleicher, and his 14-year married boyfriend. Will his boyfriend leave his wife and confess to her his love and desire to live with another man, or will he be trapped in his own insecurities and not move to a side of life he has kept hidden all of these years, risking the loss of his potential "soulmate"? Every married and single woman and male and/or those engaged in a relationship will learn the truth about two loving people who are highly challenged to reveal their innermost souls in order to "survive."
Price = 3.99 USD