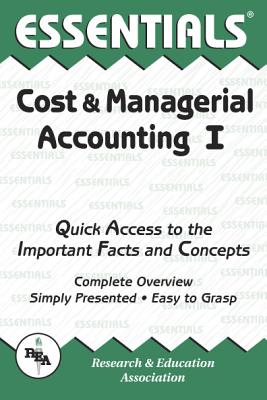 Stock Image
Author Name Keller, William D.
Title Cost & Managerial Accounting I Essentials
Binding Paper Back
Book Condition New
Publisher Research & Education Association January 1998
ISBN Number 0878916644 / 9780878916641
Seller ID 308237
REA's Essentials provide quick and easy access to critical information in a variety of different fields, ranging from the most basic to the most advanced. As its name implies, these concise, comprehensive study guides summarize the essentials of the field covered. Essentials are helpful when preparing for exams, doing homework and will remain a lasting reference source for students, teachers, and professionals. Cost & Managerial Accounting I includes the nature and usefulness of cost accounting, cost items and purposes, cost flows and accumulation, cost-volume-profit relationships, costing methods, job order costing, process costing, cost allocation, variable costing, master budgets, and flexible budgets.

Price = 6.95 USD